Samuel South(1) 1853-1919
The bank passbook of Samuel South(1) for the years 1886-1892 has survived. An initial analysis of the entries can be found in the Articles section.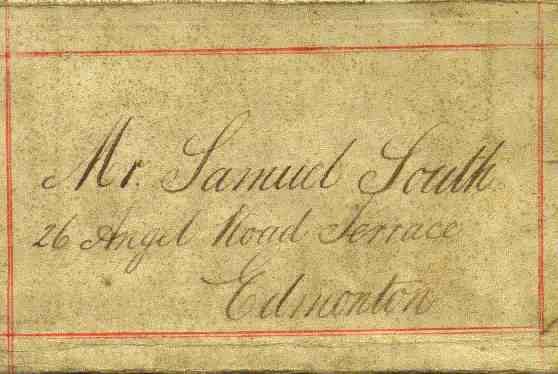 Cover of the bank passbook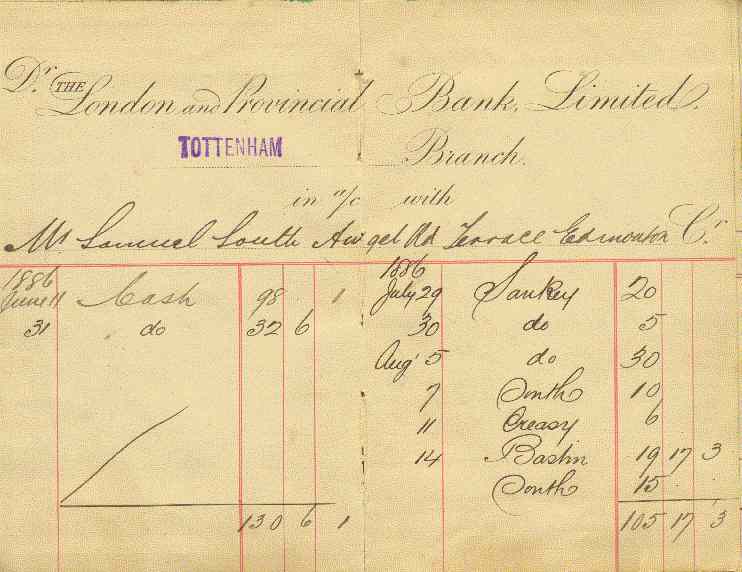 Opening pages of the bank passbook. The first three entries show payments to "Sankey"
the previous occupiers of the White Hart Lane pottery site.
The following list is of the payees in the bank passbook:
| | | | |
| --- | --- | --- | --- |
| Abbott | Gear | Mansell | Vinn |
| Allatt | Gibbons | Marsh | |
| Allen | Gill | May | Wadws |
| Anderson | Gilts | Midland Rly. | Waites |
| Anthony | . | Moulding | Wood Green Local B |
| . | Halls | . | Williams |
| Baldry | Hammerford | Nat. Boiler | Williamson |
| Barker | Harris | Newhall Field Colly. | Wilson |
| Bashin | Hart | . | Witherington |
| Bedells | Hawkins | P E Ry. | |
| Bee | Hawley | Paget | Young |
| Bennett | Heads | Piggot | . |
| Bone | Henderson | Pinder | . |
| Booth | Hepworth | Popham | . |
| Boulton | Hicking | Poupard | . |
| Bounds Green Pottery | Hickory | . | . |
| Braid | Higman | Richard | . |
| . | Hoare | Rickett | . |
| Chamberlain | Hoult | Ross | . |
| Chesser | Hyman | . | . |
| Coaley | . | Sailing | . |
| Cochrane | Isaacson | Sankey | . |
| Colby | Ives | Schimming | . |
| Cole | . | Schonstadt | . |
| Cooper | Jackson | Shinn | . |
| Counsel | . | Slatter | . |
| Cove | Keef | Smith | . |
| Creasey | Kendall | South | . |
| . | Knight | Staller | . |
| Eldred | Knowles | Stapleton | . |
| Evershed | . | Stockbridge | . |
| . | Lakes | . | . |
| Fisher | Lander | Thames Bank Iron | . |
| Flack | Legget | Thompson | . |
| Flood | Lindley | . | . |
| Foster | Littlebury | Union Bank | . |
| Fulford | Lovell | . | . |