The object (right) was found
in 1960 during the culverting of the Stonebridge Brook, Tottenham, and donated to Bruce Castle Museum. The curator sought the assistance of Samuel South(3) with the identification.
Samuel(3) estimated that it was over 200 years old and was used for puddling [or pugging] clay for brick and pot making. He explained that the object was set upright, the smaller diameter at the top, within a cylinder and resting on a pivot. The upper end was attached to a horse harness.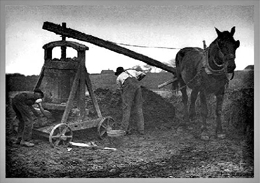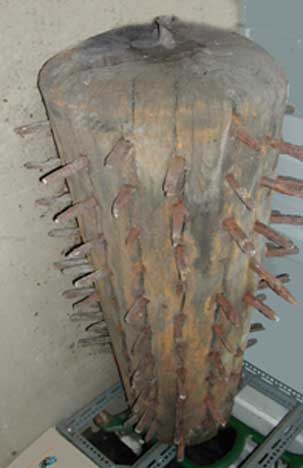 Courtesy of Bruce Castle Museum
Clay and water was fed into the upper part of the cylinder and the roller turned by a horse walking a circular path round it [see left]. The spiral setting of the spikes would mix and soften the clay driving it down to an outlet at the base of the cylinder.